Corpus Christi College, Oxford purchased land and buildings in Braceby in 1545, which they kept until 1901. The cause of this was a little-remembered cleric, highly influential in his day.
Richard Fox's birthplace in Ropsley, Lincs.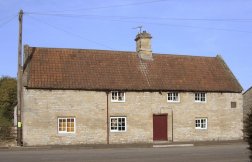 Bishop Richard Fox, right-hand man to Henry VII and later Henry VIII founded Corpus Christi College, Oxford in 1517. He was born in Ropsley, a mile and a half from Braceby in 1447/8.
On the wall of Bishop Richard Fox's birthplace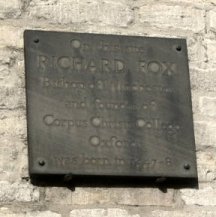 click here for Richard Fox's life summary
Click above for a summary of the life of Richard Fox in PDF format.
College Farm is one of the properties in Braceby purchased by Corpus Christi College, Oxford. This illustration comes from their Survey dated 1609.
You can read an article about Bishop Richard Fox's connection with Braceby, Ropsley and other places in Lincolnshire